"I looked for someone among them who would build up the wall and stand before me in the gap on behalf of the land so I would not have to destroy it…" Ezekiel 22:30
I read this verse when my firstborn was two and it stirred my heart. God was looking for something. He wanted someone to build a wall. So, I stood there with two children two and under, up to my knees in dirty diapers and laundry, runny noses and dishes and said, "Here we are. We will build a wall."
And we did.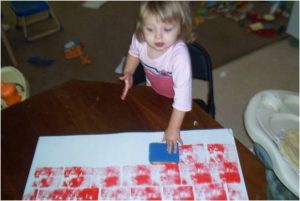 We built a prayer wall. With poster board and sponge painting. We taped pictures of from magazines onto it, including a picture of the president and our soldiers. We hung our prayer wall on the wall. Then, on a daily basis, we'd go over, lay hands on the pictures, and pray. Our then nine-month old's first words were spoken at that prayer wall: "Break in".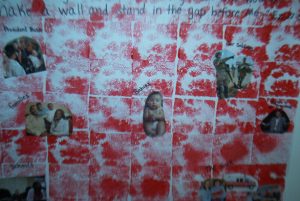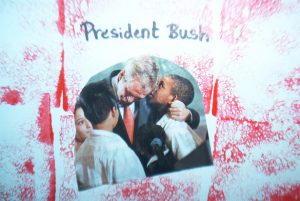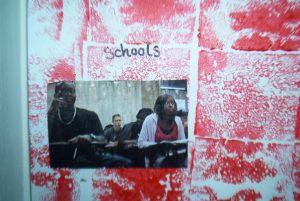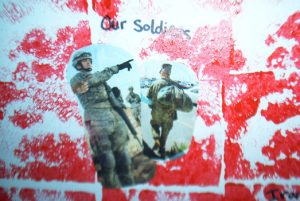 Through the years we've made many more prayer walls and done it different ways. At times we've had separate prayer walls for friends/family, missionaries, and global issues.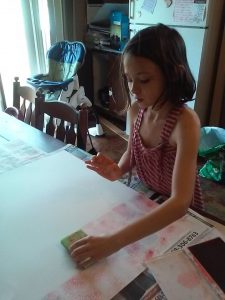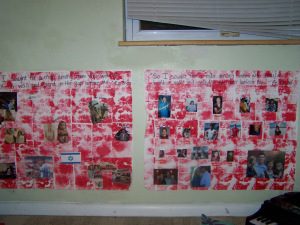 At times we've had a prayer wall focused on our city with a neighborhood street map so we could pray with focus for our neighbors.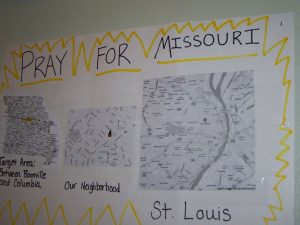 Just recently, we got all fancy and bought a giant cork bulletin board to use as our massive combined prayer wall instead of using separate poster board prayer walls.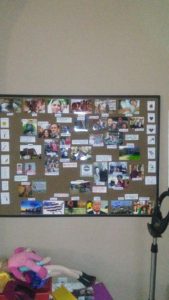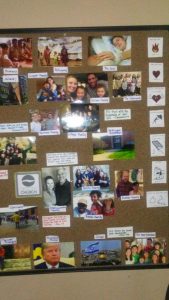 We've done prayer in different ways as well (such as using prayer books), but there's something about having those prayer needs in front of your eye gates. We pray more when the reminder of what is outside of our four walls comes crashing into the comfort zone of our daily living. We see. We remember. We pray.
For young children, you can see how this is beneficial. Abstract thinking is not their superpower. Trying to hold a picture in their minds of what they are praying for while at the same time trying to come up with language to form a prayer can be daunting for them. Having that picture right in front of them takes the pressure off.
Children are also empowered by choice. We don't tell our children what to pray for. When it's their turn to pray, they pick something off the prayer wall. Even very young children can choose from those picture options.
This is one way to make prayer enjoyable for everyone. Have you ever had a child want to pray for a stuffed animal? If you just ask an open-ended "What do you want to pray for?" you could get ANYTHING. Then you as a parent are put in an awkward position wondering if you should just pray for chipmunks, try to redirect the prayer time, or just give up and eat some chocolate. (Anybody else?) So, set some acceptable boundaries via a prayer wall and then let your child have the freedom to choose. You can even use it as a chance to teach him to ask the Holy Spirit what's on His heart – "What do You want us to pray for today?" – and go with that.
A practical tip: If you are making a poster board prayer wall, tape your picture on and then overlay it with clear packing tape. Not only will it keep that picture in place, you won't have to worry about messy fingerprints. Be generous with the packing tape and make it to last. You don't plan on quitting, do you? I didn't think so.
Just keep going. Build a history. Build your family altar.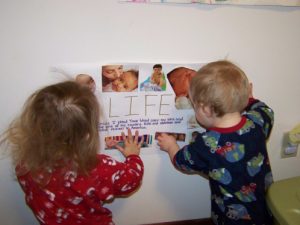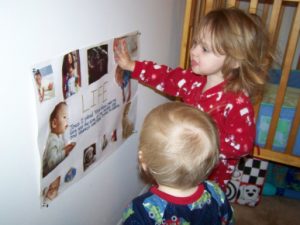 One day I walked into my son's room to find him and his sister praying on the LIFE prayer wall. I was moved to tears. So this is what they do when Mommy isn't watching? Because we have a culture of prayer in our home.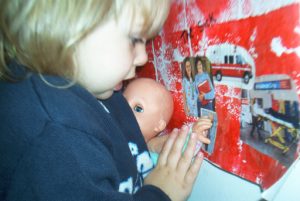 My two year-old daughter teaching her baby doll to pray.