Prayer Crayons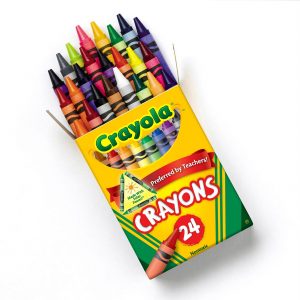 "This may look like just a crayon, but I can use it to make a prayer."
We started coloring our prayers when my first two children were itty bitty – at the very beginning of the Hanks' House of Prayer. We were going to color anyway, right? Why not add purpose to it by making those crayons tools of intercession? So we started associating different colors with different prayers. As my two-year-old or one-year-old would color, we would say those prayers together. I printed off maps of the world, of our state, of different continents and cities. They colored their prayers on them. Now that little girl is not two. She's thirteen! And when she draws, she chooses her colors with purpose. She is still interceding with crayons (or markers, or colored pencils).
Now I make fun labels to go on crayons, but that's a new gig. For a decade we just knew what the colors stood for. Labels are not necessary. If, however, you'd like to give them a go, you can download them here > CRAYON LABELS. You will need to secure them with tape, though, as the labels themselves will peal off.
There is no "thus sayeth the Lord" on this one. It's whatever the colors make you think of and whatever you want the prayer(s) to be for that color. Here are the ones we're currently using, as well as some alternatives:
RED: Show Your love! (We plead Your blood.)
BLUE: Pour out Your Spirit! (Rain down.)
YELLOW: Shine Your light!
ORANGE: Send Your fire!
GREEN: Have Mercy (because of the emerald rainbow around His throne. You can also use make them like green trees planted by the living water)
PURPLE: Let Your kingdom come!
BLACK: Push back the darkness!
BROWN: Root them and ground them in love!
PINK: Show Your love!
If you are coloring on a map, wherever they color yellow, they are praying for God to shine His light in that area! Believe that God honors that and that He moves at their intercession. When the books are open one day in heaven, who will be there because of some intercessory artwork by some little ones?
Coloring prayers is great for children who don't have the language to verbalize their prayers, either because they are still very young or because they have special needs. Putting those crayons in their hands allows them to have a voice, giving them an outlet to partner with the King of Kings to bring His kingdom to earth.
All that from a box of crayons?
Oh yes!
Allow the HOLY to invade the common and see what He will do!